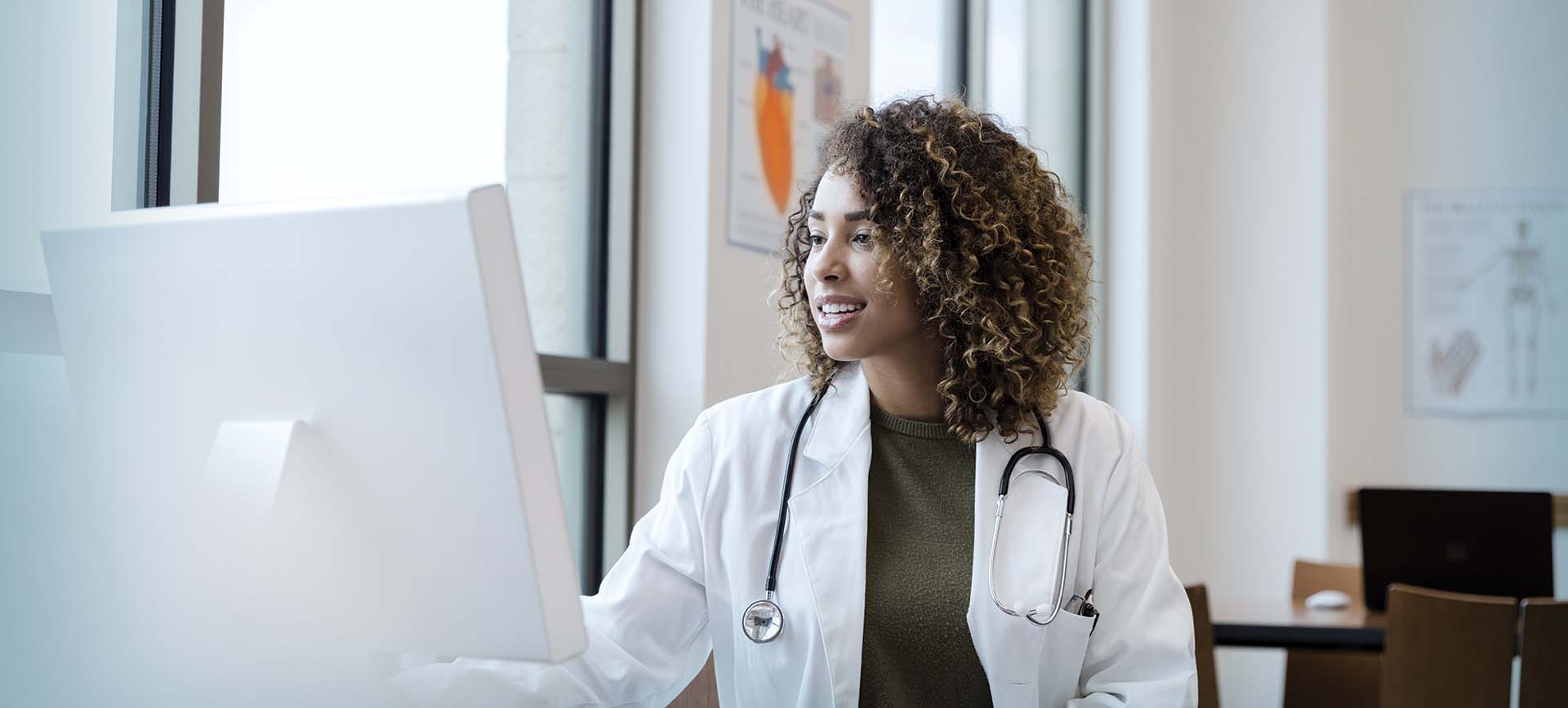 Project
CTG by the primary-care midwife: how to set this up in your region?
8 December 2021

8 minutes
From 2023, the cost of performing antenatal CTGs within primary care will be covered as standard. Until then, regions can join a nationwide pilot project that has already been underway for six years and that has shown, among others, that clients' experiences are extremely positive. Experience in various regions shows that it can be set up in multiple ways.
Siegrid Hoekstra, midwife at the Midwifery Centre Nijmegen, is the driving force behind the pilot project which began in 2015 in the Nijmegen region. They chose to perform CTGs in the midwifery practice instead of the hospital for three indications: reduced foetal movement, after external version of a breech baby, and in an impending post-term pregnancy. In the Zwolle and Amsterdam regions, which joined the pilot project shortly after it started, CTGs are only performed by primary-care midwives in cases of reduced foetal movement.
Besides the three regions participating in the pilot project, CTGs are also being carried out in the primary care setting elsewhere. For instance, in the regions Kennemerland, Helmond and Emmen it's already part of the regular care provision, because these regions have agreed with their insurance provider an integral price for all maternity care. Pilot projects are also taking place in Hoorn/Medemblik, Volendam and Zaanstreek. The reasons for offering CTGs within primary care vary: in one region women have to travel a long way to the hospital, in another there has always been close collaboration between midwives and obstetricians.
This variety of reasons and approaches is good, says Hoekstra. 'Because in every region, the situation is different. For example, midwives are allowed to turn a breech baby (external version), but many midwives nevertheless refer their clients to the hospital to have this done. These kinds of issues all have an impact on the choices you make. In any case, it's extremely important that you decide together how you're going to set it up: with all midwifery practices, obstetricians and insurance providers in your region.'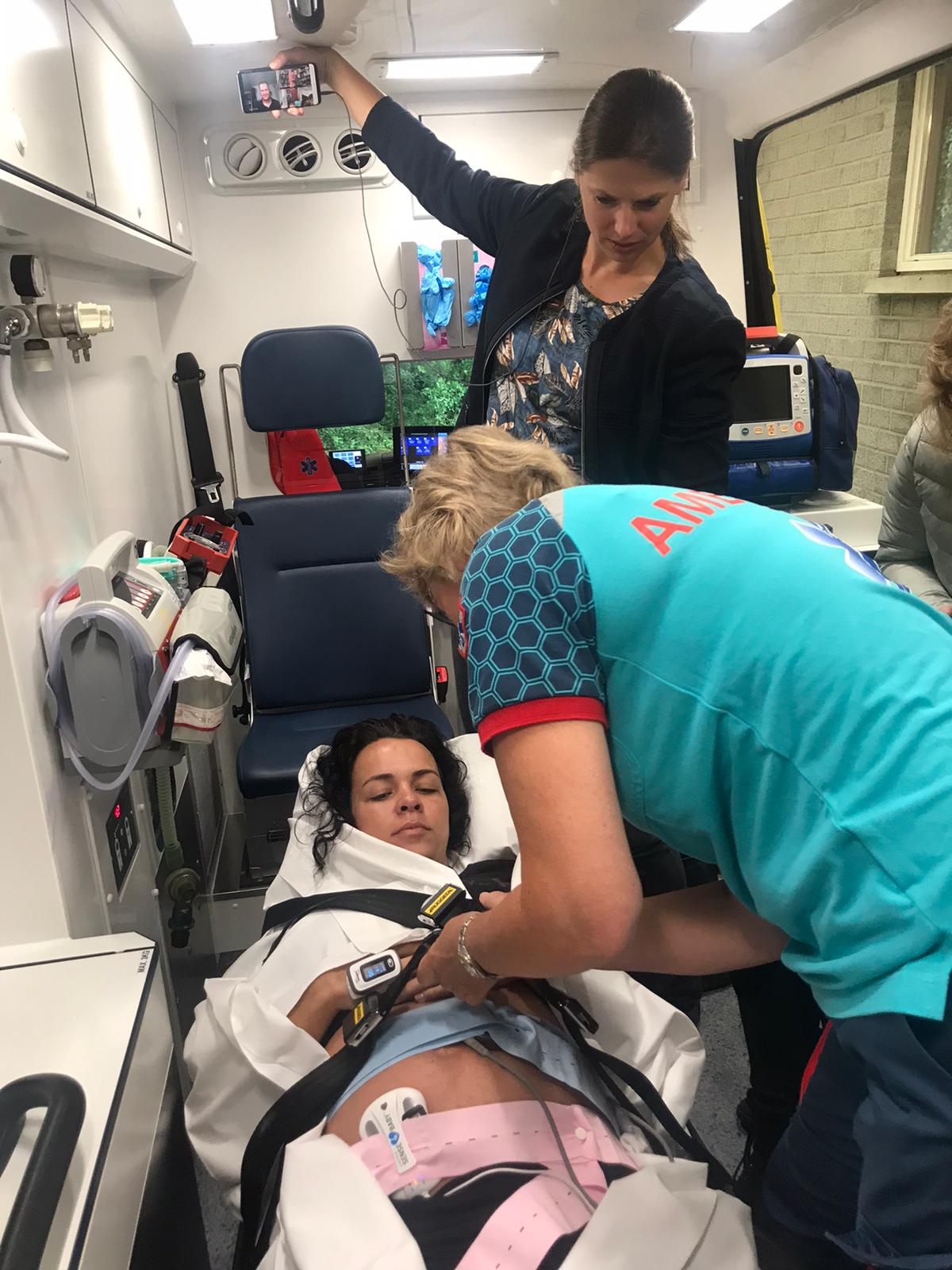 How does it work?
The midwifery practices use Sense4Baby, a mobile version of a CTG monitor. The product is supplied in a handy case containing a transducer, a tocodynamometer, a pulse oximeter, a small tablet that displays the readings, and accessories such as chargers, gel and abdominal belts. Sense4Baby is a mobile device that can be used anywhere. If a pregnant woman needs to be taken to hospital by ambulance, Sense4Baby can also be used in transit to ensure that monitoring is not interrupted during the journey.
The data is automatically uploaded to the cloud. Whenever you want a hospital obstetrician or other colleague to take a look remotely, they can log in and view the CTG either in real time or retrospectively. With this, there's a lot more consultation between primary and secondary care providers.
Reduced foetal movement
As already mentioned, in the Nijmegen region a CTG, in combination with an ultrasound scan, is performed by primary-care midwives for three indications. Of these indications, reduced foetal movement is most commonly seen. 'And that's also the indication for which, generally speaking, we hardly ever need to refer women on to the hospital,' says Hoekstra. At the same time, this is not plannable care. 'That's why we decided to train all midwives in carrying out CTGs, so that the on-call midwife can do it herself. That said, we still organised a back-up option in case a midwife prefers to have a colleague perform the CTG or to observe in real time, but in practice, in the six years that we've been doing this, we've hardly ever had to use this.
Impending post-term pregnancy
In cases of impending post-term pregnancy, the midwife performs a CTG between 41 weeks and 41 weeks + three days gestation. If the results of the CTG and the ultrasound are good and the baby doesn't need to be delivered straight away, another CTG is carried out several days later. Hoekstra: 'The options for impending post-term pregnancy — induction at 41 weeks versus waiting for labour to start spontaneously up until 42 weeks, with CTG and ultrasound checks — are discussed with the client from week 39. We always schedule these CTGs before or after consultation hours, because the chance is quite high that labour will have started spontaneously between making the appointment and performing the CTG. Fortunately, with these CTGs we rarely have to refer women urgently to the hospital. What does regularly occur is that after the CTG we plan an appointment with the hospital to have the labour induced.'
After external version
The third indication is after an external version. Hoekstra: 'Back then, our region was also initiator of a change in approach to breech pregnancies; where previously women would be referred to the hospital to turn the baby, we started carrying out the procedure at the Midwifery Centre Nijmegen. In these cases, after the version it's obviously much nicer for women also to have the CTG performed in the centre, rather than having to be referred to the hospital for this.'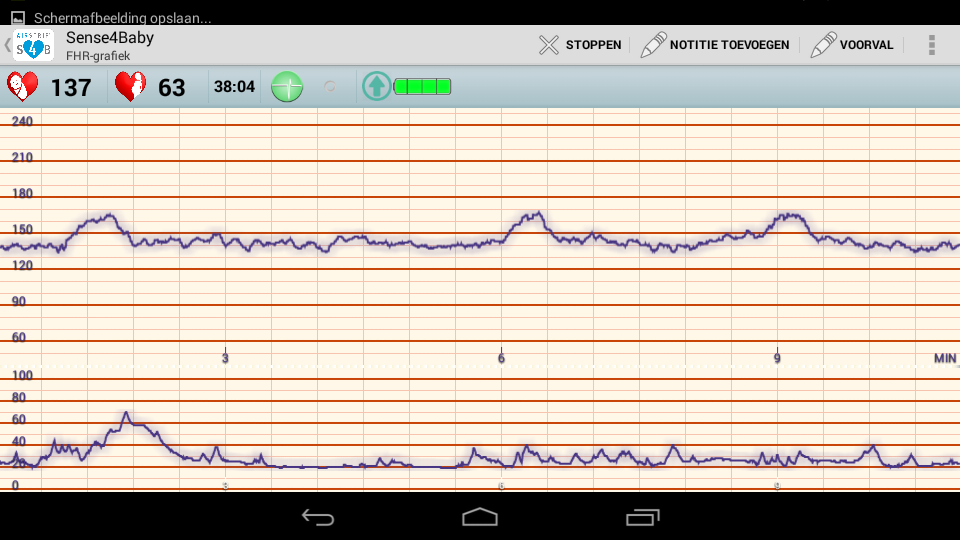 Implementation handbook
To avoid every region having to reinvent the wheel, an implementation handbook has been written by the Midwifery Science Research Group Amsterdam UMC (Onderzoeksgroep Verloskundige Wetenschap Amsterdam UMC). The book covers all aspects, from the technology to the business side and from the effect on care quality to the protocols to be followed. Hoekstra: 'This enables other regions to build upon the broad experience that has since been gained.'
The Midwifery Academy Maastricht (Academie Verloskunde Maastricht) has developed an e-learning module that all midwifery academies now offer. Midwives who will be performing a CTG can run through this training to refresh their knowledge. After all, it's a subject that is covered during the midwives' training, but that they never come across again in practice. In addition, ICT Healthcare Technology Solutions has developed training for working with Sense4Baby.
Each region arranges the quality assurance aspect in their own way. In Nijmegen, a meeting is held every three months in which obstetricians and midwives discuss the CTGs performed in the primary care setting. Hoekstra: 'In practice, we've noticed that this doesn't so much enhance the quality of the evaluations, since even without these discussions this is very high. Rather, it primarily benefits the collaboration between hospitals and midwifery practices. Because you speak to each other more often, you get to know one another better and you also learn to see certain situations through each other's eyes. It's a win-win situation.'