Story
Following my traineeship at ICT Group, I quickly stepped into this job
Tycho Hendrikx, Service Engineer for Managed Services
2 September 2022

3 minutes
Flying start
Tycho Hendrikx had already done a traineeship at ICT Group's Water & Infrastructure. A month before his graduation, he contacted ICT Group again. It all went very quickly after that, and he entered into office on 1 December 2021. "Because of my traineeship, it never felt like a job interview. I already knew the company quite well. We tried to imitate the reality in college, but here, I was immediately dragged along by the flow of the company, and that is something else entirely. Although almost everything was new to me, ICT Group never felt like a big automation company. Short lines, approachable, and easy-going. Ideal for ambitious starters on the job market."
Being eager to learn is very important
Tycho Hendrikx started as a Service Engineer for Managed Services. He is part of a team with three other Service Engineers and a Service Delivery Manager, who work with several clients. "I love the diversity of my job. I work for different clients, using different technologies, such as Siemens S7 and the TIA portal. Much of my work focusses on the PLC level and the operation of processes that involve SCADA. Part of the work is routine, recurring, such as the maintenance of PLC systems, but I also receive requests for small-scale projects. In addition, I help with some troubleshooting and took care of the test process of a larger project.
Every day is different and I always learn something new. Right now, the most important thing for me is to gain experience and keep studying. I am following internal SCADA training, as well as an S7 home-study programme. Being eager to learn is important. You will always find things of which you do not know how they work. That can be frustrating sometimes, but you learn a lot. Especially now that I am working fault-clearing shifts. By asking the client the right questions, you learn to understand what happened exactly. Luckily, I have a backup co-worker to fall back on. Together, we can fix any problem. The good thing about ICT Group is that they understand that you still have a lot to learn and give you space to do so. After all, that is how we all started."
"Being eager to learn is very important, and ICT Group understands that you still have a lot to learn."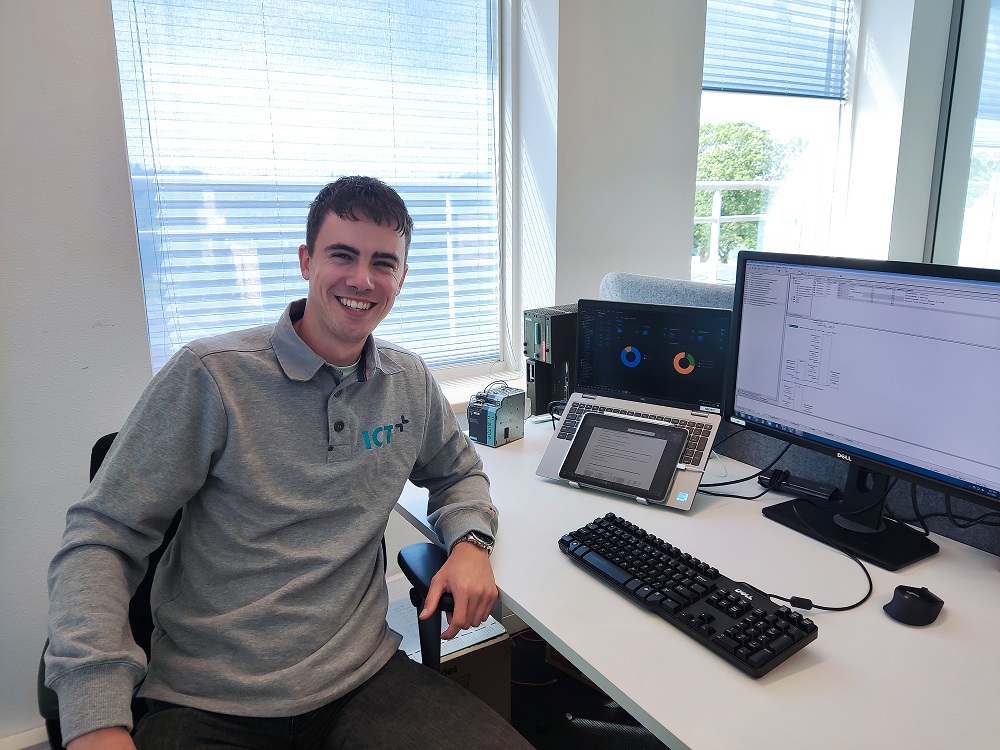 Implemented a maintenance plan on my own
"On most projects, I still just tag along with my co-workers, but for one client, I implemented a maintenance plan on my own. That client is a conservancy that operates many pumping stations spread over a large area. All those pumping stations have their own PLCs and you have to perform regular checks on each of them to see if their values and cycles are still correct. Some of those pumping stations can be monitored remotely, checking their PLCs online, but I also move around a lot and visit all kinds of places. This check-investigate-solve approach is new for the client as well. Very fun to do."
Do not hesitate
"What I learned is that you should never hesitate to communicate. ICT Group is a very open organisation where people have time for you and want to help you. They give you space to learn and to grow in your field, the domain the work in, and as a person. So, if you are looking for a good trainee post or you are about to graduate, ICT Group should be high on your list. It will definitely be a challenge, but that gives you  a chance to show what you are made of and what your ambitions are. At least, that is the experience that I had. And look what a wonderful job I have now.