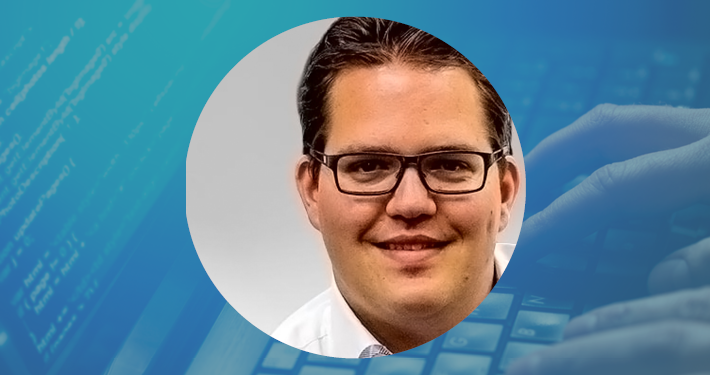 Story
Johan's Challenge: Developing solutions that accelerate real innovation
The all-electric racing car of the InMotion student team of the Eindhoven Technical University (TU/e) scored the fastest lap time at the Zandvoort race track in 2017. The team partly owes its success to the integrated architecture for the Electronic Control Units, which was made possible with the support of Motar. Johan van Uden was a member of the software development team.
Automated Code Generation
During his student days, Johan was one of the founders of the TU/e's racing team. When he took up employment as a software developer with ICT Group, he was given the opportunity to develop Motar: software that can automatically generate error-free code from the control model. As such, Motar makes an important contribution to the most complicated part of an innovation project: converting a prototype into a ready-to-use product, and in cases of embedded software, this involves converting a Proof of Concept into 'production class' software.
Accelerate innovation
Johan: "In disciplines such as mechatronics and robotics, innovations occur practically every day. Developing a prototype is the first step. Once the prototype has proven successful, the next step often involves starting all over again with the software development, a time-consuming process that requires specific expertise. This is exactly what is simplified by Motar. Motar allows you to bring software to production from your graphical model – i.e. from the description of the application's behavior – without writing any code yourself. This reduces the time-tomarket and lowers the development costs."
"Innovating is collaborating. ICT Group understands this and facilitates this collaboration at all levels: internally, with customers, and with colleges and universities."
Resolve customer-specific challenges
Johan was totally dedicated to developing this software. "There's a variety of code generation platforms, but they are limited to generating application software, while you still need to integrate the underlying embedded software layer manually. Motar automates this entire process. It was wonderful to have the opportunity to develop this myself." Once this product was finished, it was time for Johan to take the next step in his career, and he became a technical consultant. "I really like developing software, but resolving specific technical challenges and issues is even more interesting. The racing team offered that challenge in terms of developing an electric car for an endurance race. And now I can focus on specific issues that our customers encounter." "For instance," says Johan, "ICT Group presently works together with TNO and DAF on a truck platooning project, which allows trucks to drive in very close proximity in order to reduce fuel consumption and CO2 emission. I worked on a specific part of this system and figured out how we could achieve a substantial reduction of the development time and cost by means of Motar."
Variety in work activities
Not a single day is the same in Johan's work as a technical consultant. One day he visits a potential customer together with a sales consultant to discuss technical issues and make an estimate of the time required to develop a solution. The next day he meets with various specialists from ICT Group to discuss a specific customer challenge in more detail. And the next day he could be giving a presentation or a demo at a trade show, a conference, of for a group of students, or he's involved in testing a new product concept. "It's this variety that makes this work so interesting. Innovating is collaborating. ICT Group understands this and facilitates this collaboration at all levels: internally, with customers, and with colleges and universities. This makes my work so extremely challenging. And what's so great: you always see the concrete results of your work in the products. Sometimes this happens quickly, and the product – based on the software we developed – is available on the market within six months. And sometimes it can take years, for instance the platooning concept, for which the truck manufacturers believe that the shortest possible scenario for launching the product is not until 2023."