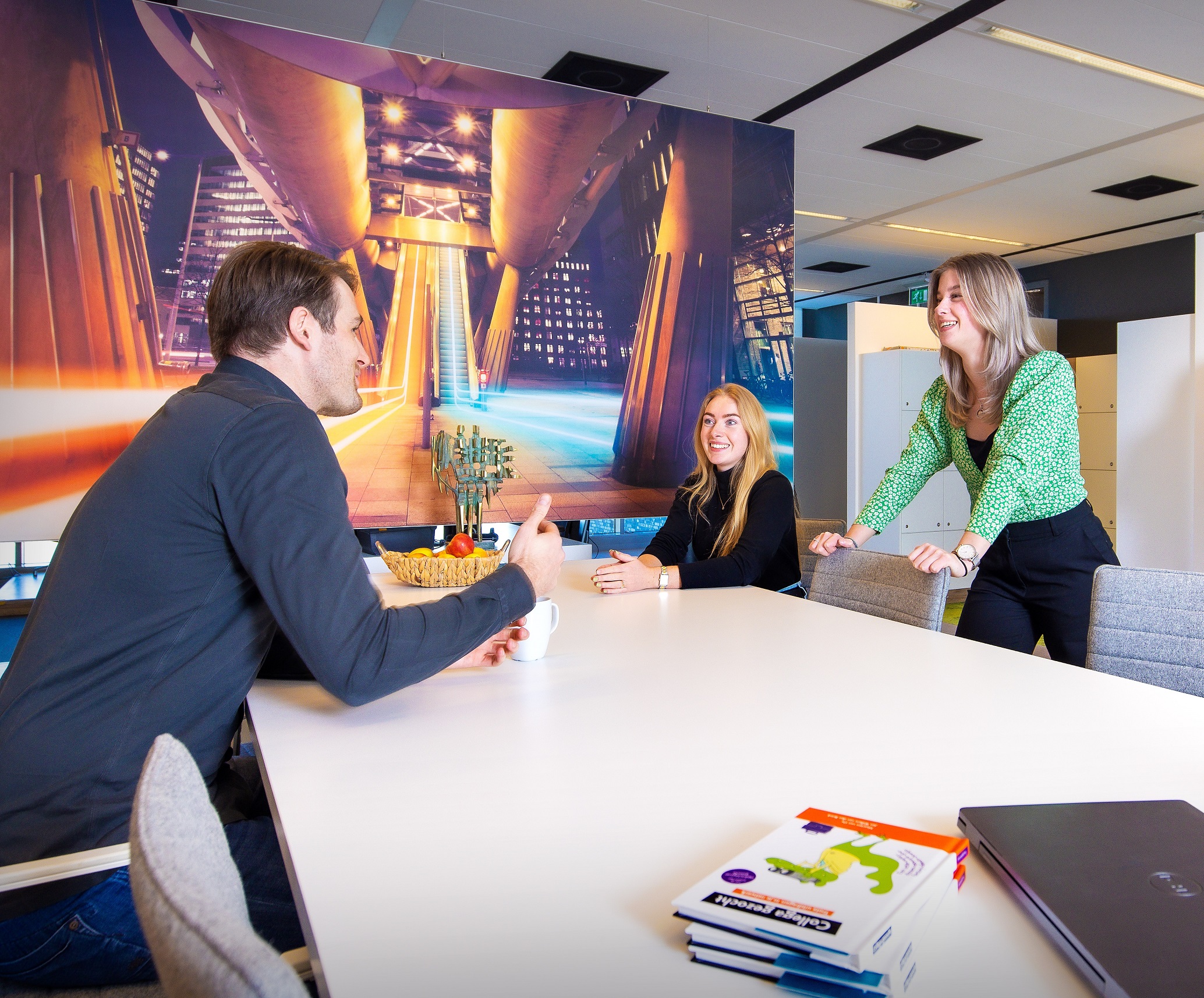 Story
It's much better for me to regularly wrap my head around a new issue
Dewy Stoorvogel, business consultant at ICT Group
Like when he bought his flat. "Everyone shouted: 'What are you getting into', but I saw what it could become. So we put our backs into it and got things moving." He does the same in his work at ICT Group. Since 1 July 2022, Dewy has been a business consultant at the Industry Business Unit of ICT Netherlands, part of ICT Group.
After completing his mbo (intermediate vocational) education in architecture and his bachelor's degree in mechanical engineering at the Hogeschool van Amsterdam. Dewy worked as a project manager at a company that supplies motion systems to various industries, including the aviation industry. There, he became interested in the combination of software and engineering. When he was already working as a technical consultant at his next employer, an IoT company, a recruiter from his network advised him to contact ICT Group. It's an interesting employer with a lot of potential, the recruiter said. "She gave me the phone number of Hans Rademakers, manager of the recruitment team at ICT Group," Dewy explains. "I contacted Hans, told him what kind of work I did, the type of things that give me energy and that I aspired to a job at the intersection of technology, ICT and consultancy. Hans advised me to talk to Leendert Mijnders, senior business consultant at the Industry Unit."
Like a fish in water
A fruitful conversation followed during the Summer of 2022 and now Dewy feels like a fish in water as a business consultant at ICT Group. "It's exactly the next step I was looking for as a technical consultant. After a conversation with a client, I dive into the issue, while always focussing on the client's perspective," Dewy outlines his working method. "I start by properly mapping out the business issue for the client. Then, from a kind of helicopter view, I list possible solutions.'' Dewy derives a lot of satisfaction from constantly dealing with changing challenges.
"This allows me to broaden my knowledge and skills. Besides," he says confidently, "if I spend too long on the same thing, there's a risk of getting bored. It's much better for me to regularly wrap my head around a new issue."
Challenging projects
Dewy has been able to grow at ICT Group within a very short time span. "I work on challenging projects. For example, I fulfil the leading role in the development of a new approach, with accompanying new software, for the Business Continuity Scan we offer to clients of ICT Group. In my work, I benefit greatly from the expertise of colleagues."
ICT Group places great value on employee development and also facilitates this with the ICT Academy, where employees can attend a wide range of training courses. Despite the fact that he has only been employed for a relatively short time, Dewy has already attended a training course on the Manufacturing Executive System and he has already consumed most of his book budget. The next training course, which focusses on communication with stakeholders, will take place in the near future. "This is an important skill for a consultant," states Dewy, and he is looking forward to it.
"During the training course you are working on your areas for improvement in a role-play with actors, and that's very useful and a lot of fun."
Business consultant at ICT Group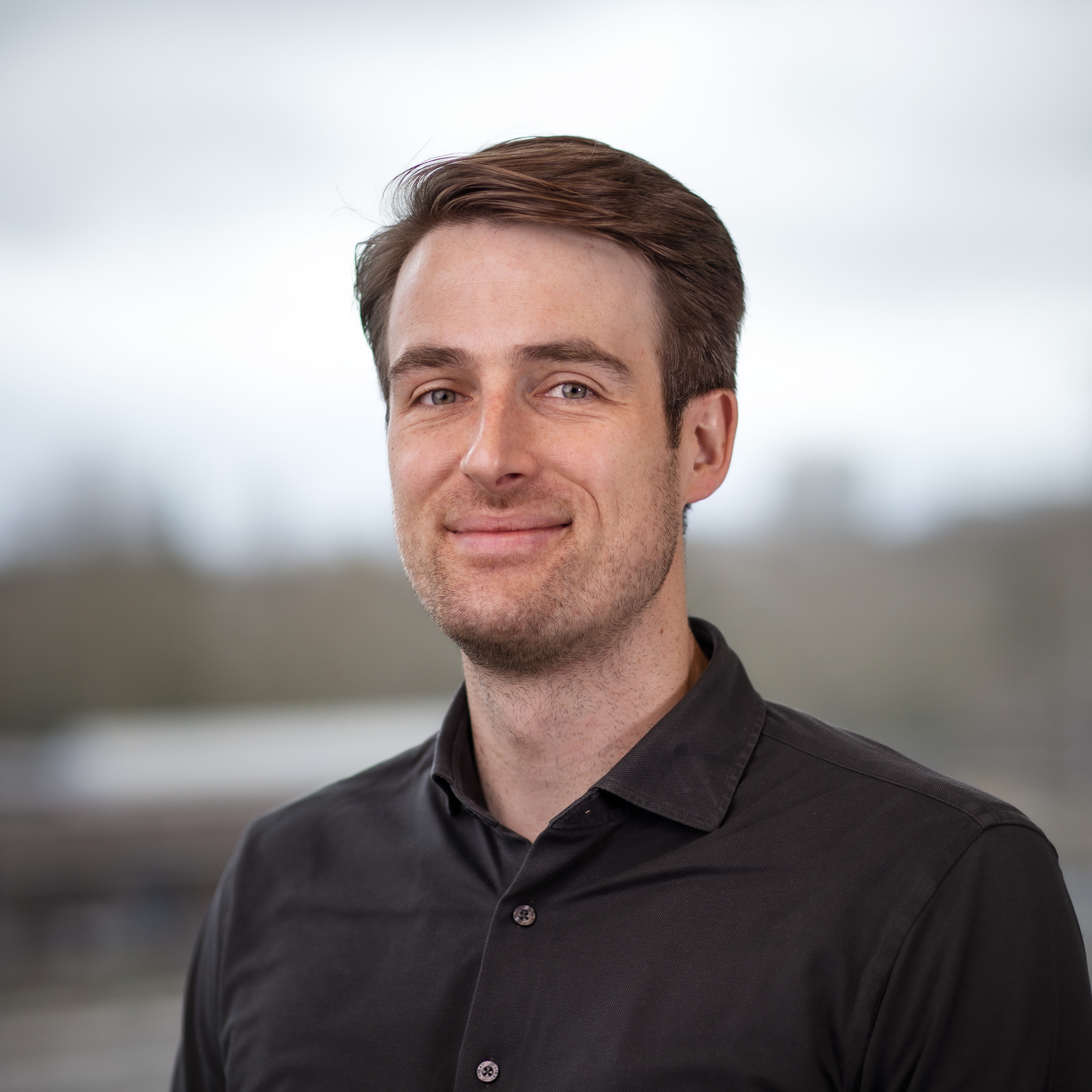 Leading role
Dewy characterises himself as a social person. "As a consultant, it's nice if you can communicate clearly and listen well. Privately, I don't need to be in the spotlight, but for my job it's important that I do take the leading role. That ensures a nice balance. You work with many different types of professionals, and everyone has his or her own expertise and character. I'm the spider in the web, and this role also fits in well with my character trait of preferring to be in control. In the process, of course, you also have to be flexible enough to go for the best solution in the end." Dewy enjoys the frequent sparring sessions he has with colleagues, but when he is working on a proposal, he also likes to withdraw in a concentrated manner to peace and quiet. "I love that. It's nice to be given that space."
In his spare time, Dewy enjoys playing sports. ICT Group offers the opportunity to work from home on a regular basis, which gives him the freedom to play some sports between work. "I like to make my run through the park," he says, and this is an important exercise for the 6ft-2 basketball player, who also does a lot of CrossFit.
The best solution for the customer
What Dewy also likes about ICT Group is that the staff is made up of so many different personalities. "We can't be lumped together under one heading. What all employees do have in common is that we know how to find each other and that everyone is very helpful." He has noticed this in the new approach to data proposition. "We initiated this approach from within our own business unit," Dewy explains. "Because we propagate the ICT Group proposition broadly from across the organisation, we explicitly involve other business units in our work. That provides a lot of added value. ICT Group is one big company and when solving an issue for a client, it is very valuable to see which parts of our company can contribute. After all, what you want to achieve is the best solution for the client."
Will there be a blog of yours here soon?
So many colleagues, so many unique stories! At ICT Group, we are all different. What binds us is the love for the profession and the way all these different characters work together. And together, we come up with the most beautiful solutions. Do you also want to be yourself and work the way you want? Be you. Be one of us! Check all vacancies or just let us hear from you via an open application. See you soon!